News
---

8.24.06 - Busy Philipps will appear in at least four episodes of ER this season as a devout-Christian medical intern.

3.29.06 - Comedy Central is developing a new show called Naked Trucker, a sort of traveling variety show starring Dave Koechner and Dave "Gruber" Allen. With a six-episode commitment, the show is expected to premiere late this summer.

1.30.06 - There is a quick Q&A on page 44 of the January 30th issue of TV Guide in which Linda Cardellini admits that a lot of Freaks and Geeks fans still come up to her and bemoan the loss of their favorite show. She says that "it's always the most pleasurable experience to meet a Freaks and Geeks fan, because I loved that show so much."



Jason Segel by
Monty Brinton/CBS
12.12.05 - TV Guide Online: Have You Met Ted's Best Friend?
by Matt Webb Mitovich
The ensemble cast of CBS' How I Met Your Mother (Mondays at 8:30 pm/ET) boasts beauties, cuties, and some freaks and geeks. OK, to be specific it features Freaks and Geeks alum Jason Segel, playing the happily (and horny-ly) married buddy who gets Ted thinking about finding his own perfect woman. TVGuide.com spoke to Segel about his Mother role, wooing Sydney Bristow and doing, um, R-rated things to watermelons.
TVGuide.com: Going into this, did you ever predict Mother would be as big a success as it is?
Jason Segel: You know, the thing that got me thinking that we had something good was that it was very easy right from the start, easier than anything I had ever experienced. The cast got along really, really well, and the casting process was just a dream, really. They had seen the Freaks and Geeks DVDs when they came out, so I was really lucky that they made me a test offer before I had even auditioned, which has never happened for me before. And then I went in and got the role.
TVGuide.com: Tell me about the party you had when the show got picked up for a full season.
Segel: Oh, yeah, it was fantastic. We were on the set doing a scene in the bar, and as the cameras start rolling, a voice comes over the loudspeaker — it was Carter Bays, one of our producers and creators — saying, "I just want to let everybody know we've been picked up for the back nine." It was just pandemonium, everyone started cheering — and they've got it all on tape, which is the best part. Later on that day they wheeled out a big cart filled with hundreds of glasses of champagne and we all toasted each other. It was a real treat.
TVGuide.com: So the cast is gelling well? No backstage catfighting amongst the boys? "Damn that Neil Patrick Harris for getting all the zingers!"
Segel: [Laughs] No, no... everybody is really happy, I must say. They're really doing a good job of servicing all of us, and playing off of what we're good at. Neil's character (Barney) is just unbelievably funny, and Josh [Radnor, as Ted] is great as the sort of staple and anchor of the show, and I think Hannigan and I are doing a really good job....
TVGuide.com: How is it having Alyson Hannigan for a TV wife? I imagine she's a pretty damn cool one.
Segel: She is, I must say. It's a real treat to show up and do scenes with her because she always comes in prepared and hilarious, so you know you've got to bring your "A" game. It's nice to be challenged that way.
TVGuide.com: I recall an interview where she said that even though Miss American Pie could probably headline her own series, she's thrilled to be part of an ensemble.
Segel: Yeah. I don't want to speak for everybody, but we kind of sit in awe of each other a little bit. We watch each other do our scenes and laugh — genuinely laugh — at each other.
TVGuide.com: When I spoke to Josh, he said you'd done some "songwriting" for the show, for an episode in which Marshall hums some goofy lyrics?
Segel: Oh, right... they wrote me a really challenging and great story line where everybody leaves to go do something fun, and Marshall is left alone to study law and all it said on the [script] page was "[he sings] some nonsensical lyrics"....
TVGuide.com: I have news for you: Marshall never seems to study law.
Segel: Yeah, I know, it's hilarious. But the script just said "[he sings] some nonsensical lyrics," so I was left to figure out how to make that a coherent episode. [Laughs]
TVGuide.com: You must have been like, "Thank god I'm a musician in real life."
Segel: Yeah, it worked out OK, it worked out OK.
TVGuide.com: Are you as much of a "guy's guy" as Marshall is?
Segel: I think I'm not, actually. There are some parts of me that are like that, but I like to play the piano, listen to my record player.... I'm on a basketball team, I play my sports and drink beer and all that good stuff, but I like a nice jazz album, too.
TVGuide.com: For something that only ran 18 episodes, Freaks and Geeks earned a nice little cult following, eh?
Segel: It did, it really did, and that was the coolest. When the DVDs came out, there was this little resurgence and a lot of people who said they had seen the show finally actually saw the show [Laughs], which was nice. People have been kind about it and, as I said, that's how I ended up getting this show, so it was pretty perfect.
TVGuide.com: You once guested on Alias; that has to be a young actor's dream.
Segel: It was pretty cool, I must say! I got shot....
TVGuide.com: Even better! If I went on Alias, I would totally want to get shot.
Segel: Oh, man, I got shot by the evil guest star, got to have a little love story with Jennifer Garner, which was a treat, and I got chased by a robotic helicopter. A robotic killer helicopter.
TVGuide.com: I remember your episode now; the helicopter chase was in a warehouse, right? And you were a guy Sydney met in a bar and flirted with to sneak out? I think she had on a wig.
Segel: I think she did! In fact, TV Guide gave me a "Cheers" for that, if I recall. They recognized me from Freaks and Geeks.
TVGuide.com: What do you do with your free time?
Segel: I do some writing on the side. I'm starting to send some scripts out that hopefully I can get made during a hiatus. We'll see how that goes. One's a drama, one's a comedy.... I write a little bit of everything.
TVGuide.com: Lastly, dare I ask about your role as "Matt, Watermelon Guy" in Can't Hardly Wait?
Segel: Funny enough, that was my very, very first movie; I was 17 years old. I actually think it got cut out of the movie because they decided to go from R to PG-13.
TVGuide.com: Jason, what on earth were you doing to that watermelon?!
Segel: I'm trying to remember — it's coming up on eight years — but he had scooped out the insides of a watermelon and infused it with vodka and was serving it at a high-school party.... I don't remember all the details, surprisingly! [Laughs]
7.21.05 - Zap2It.com: UPN's 'Love, Inc.' Gets Busy ... Phillips - At 5:20 on Thursday (July 21) afternoon, Busy Phillips received an important phone call. "I was getting a manicure and a pedicure and I said, 'Guys, I have to cut this short,'" Phillips laughs. It's less than three hours later and Phillips is chatting with reporters at a Television Critics Association press tour network party as the newest star of UPN's fall comedy "Love, Inc." She's replacing Shannen Doherty, who was recast almost immediately after the show was picked up this spring. More....
3.7.05 - John Francis Daley and Nicholas Brendon (Buffy the Vampire Slayer) have been cast in a new FOX pilot called Kitchen Confidential, about a bad-boy chef, down on his luck, who takes over a top-ranked New York restaurant. The "bad-boy chef" role has yet to be cast.
12.29.04 - The MSN Entertainment staff wrote about the best and worst television of 2004, and called the Freaks and Geeks DVD one of the best TV on DVD releases. Paul Feig and Judd Apatow's 1999 series following the lives of misfits in a Michigan high school was a classic cult fave, overlooked and underestimated by network brass while fiercely embraced by critics and an audience that lobbied hard for its survival. Resuscitating the show for DVD release required the same fierce devotion, but the results are a triumphant rebuttal to its cancellation. Even more than "My So-Called Life," "Freaks" captures the purgatory of high school with loving, lacerating detail. The special features on the regular version set a new standard for TV packages.
8.29.04 - From TV Guide: Geek Chorus Samm Levine — one of the dorkier Freaks and Geeks geeks — has been cast in a four-episode arc on ABC's upcoming teen soap Life as We Know It (which is produced by Freaks alum Jeff Judah). He'll play a drama student who stages a Baz Luhrmann-style version of "Romeo and Juliet." A show rep hints that viewers can "expect other Freaks and Geeks alums to make appearances," but I assume she doesn't mean James Franco of "Spider-Man" or ER's Linda Cardellini. I mean, c'mon–they're in the cool crowd now.
4.19.04 - There's a great interview with Paul Feig on SuicideGirls.com.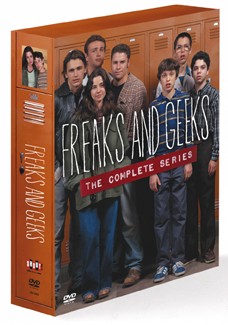 3.16.04 - The full series is being released on DVD on April 6th. You can pre-order the 6-disc DVD set from Amazon.com (which costs around $50), or you can order the Limited Deluxe Edition (8 discs) from the official Freaks and Geeks site (about $120).

9.3.03 - This week's issue of TV Guide gives CHEERS to freakin' brilliant casting. ER has tapped endearingly droll Freaks and Geeks alum Linda Cardellini to play a free-spirited nurse, beginning with the coming season's fifth episode. There's talk of a romance with Goran Visnjic's Dr. Luka Kovac. He should be so lucky.

9.2.03 - TV Guide Online: Freaks and Geeks: The Next Generation - Freaks and Geeks creator Paul Feig is developing a new comedy series for HBO about four twentysomething friends — three guys and a girl (no pizza place) — dealing with sex and dating from a distinctly nerdy point of view. Think of it as his attempt to educate Hollywood about the complexities of the male species....

8.19.03 - Linda Cardellini has joined the cast of NBC's ER, debuting in the season's fifth episode as Nurse Samantha Taggert, a new regular character.

8.7.03 - From TV Guide Online: Former Freaks and Geeks producer Paul Feig has signed a deal with HBO to develop Nice Guys, a comedy series about a trio of nerdy male co-workers looking for love. "Just as Freaks and Geeks was a realistic version of the high school experience for many people, this will lay out what normal guys go through as young adults," Feig tells Variety. "I'm talking about the guys who aren't superficial jerks and would actually make good husbands if women would just stop and notice." He's not bitter though.

7.24.03 - Paul Feig posts on his web site for Freaks and Geeks that:
"We are VERY close to getting the DVDs out. A company that was started by the guys who sold Rhino want to put the show out and are with us that all the original music must remain intact. So, that's a great thing (I wouldn't release it otherwise). But that causes one small problem -- the DVD set is going to be a little more expensive than we wanted it to be. This is so we can include all the original music, and also so we can get the DVDs out sooner (instead of spending months and months doing legal work).
The price for the DVD set will probably be around $120, which is very steep, I know. However, because of discount sites on the web and the fact that most stores like Tower and Virgin always mark down new releases, you'll probably be able to get it for about 80 bucks. I will say that we're intending to include one full disc of extras, including deleted scenes, bloopers, and lots of other fun things (that we're in the process of pulling out of all our crates and boxes now).
So, that's what's up. I don't know any exact date for when it'll be coming out but I know we're all shooting for before the end of the year (probably in time for Christmas -- how embarrassingly convenient!).

5.13.03 - Samm Levine's new comedy, The Mayor, has been picked up as a mid-season show for next season by the WB.

3.7.3 - Samm Levine has been cast in the WB pilot Kid Mayor.

12.17.02 - TV Guide Online: James Franco Consorts with Tramps! - Freaks and Geeks grad James Franco rose to bad-boy fame with his Golden Globe winning turn in the TNT biopic James Dean. Then, he was Peter Parker's wicked best friend in Spider-Man. Next up, he's playing a male prostitute in Sonny (opening Dec. 27).... 9.9.02 - TV Guide Online: Dawson's Creek Star Gets Busy - When Dawson's Creek kicks off its sixth, and likely final, season, viewers will see a new face gracing the opening credits. Freaks and Geeks alum Busy Philipps. And not to be vain, but the actress, who joined the WB sudser last season as Pacey's new flame Audrey, admits she's relishing the added visibility....

4.30.02 - TV Guide Online "Caught in the Act" - Web of seduction: Former Freaks and Geeks star James Franco succumbs to Marla Sokoloff's considerable charms at the Spider-Man premiere in Los Angeles, Calif.

4.26.02 - TV Guide Online: James Franco: Almost Spider-Man - With their oh-so-angular facial structures, Willem Dafoe and James Franco make quite a convincing father/son duo in Spider-Man (opening May 3). "Thanks," Franco jokes to TV Guide Online. "I think he's an incredibly striking man. If I bear resemblance to him, that's a compliment. We just dyed the hair a similar color so we'd look a little more like [relatives]."...

3.9.02 - Judd Apatow is named one of TV's MVP writers in the March 9th issue of TV Guide. After exploring the horrors of high school in Freaks and Geeks, the bard of teenage angst and the hilarious voice of a generation of misfits now tells the truth about college–and it isn't always pretty. Apatow is a producer, director, writer, editor, actor and perfectionist. "He's always making changes right down until the day we shoot," says Carla Gallo, who plays Lizzie. "He pores over the scripts and isn't satisfied until he's happy with every word."

1.30.02 - Judd Apatow is developing a second comedy project for FOX, even though Undeclared is in danger of being cancelled. The untitled half-hour comedy will star actor Dave Herman, whose credits include playing various roles on Comedy Central's "Primetime Glick" and FOX's own "Mad TV." The comedian has also voiced roles on the FOX comedies "King of the Hill" and "Futurama," as well as appearing in the films "Shriek If You Know What I Did Last Friday 13th" and "Dude, Where's My Car?" FOX recently cut back the order for Apatow's "Undeclared," from 22 episodes to 17 episodes in order to make room for the midseason comedies "Greg the Bunny" and "Andy Richter Controls the Universe."

1.20.02 - James Franco won a Golden Globe award for Best Actor in a Miniseries or TV movie for his role as James Dean.

7.12.01 - Freaks and Geeks received an Emmy nomination for Outstanding Writing for a Comedy Series for the episode "Discos and Dragons" (written by Paul Feig).

4.19.01 - New York Times: Afterlife for TV's Quirky Flops? Sometimes (don't know how long this link will work)

3.26.01 - Wanda at E!Online reports that Linda Cardellini is dating Jason Segel.

2.6.01 - Samm Levine and Joanna Garcia (Vickie) have been cast in the new Columbia Pictures project. It's called "Teen Movie," and will begin shooting in two weeks. The writers are Buddy Johnson and Phil Beauman (both from "Scary Movie") and the film will be a spoof on all the teen movies that have gone before.

1.29.01 - The Gay & Lesbian Alliance Against Defamation (GLAAD) today announced the nominees for its 12th Annual GLAAD Media Awards presented by ABSOLUT VODKA. The awards will take place in four ceremonies to be held in New York City on April 16, in Los Angeles on April 28, in Washington, D.C., on May 12, and in San Francisco on June 9. "The Little Things" was nominated an Outstanding Individual Episode (In a Series Without a Regular Gay Character).

12.5.00 - Seth Rogan has been cast in a new midseason replacement show being created by Judd Apatow.

12.1.00 - Zap2It.com: Cardellini in Talks to Play Velma in Scooby

9.11.00 - "Freaks & Geeks" Emmy Award Wins! (1)
Outstanding Casting for a Comedy Series

8.3.00 - Variety reports that Judd Apatow and Paul Feig have signed a deal to produce six episodes of a new midseason comedy for Fox. The untitled sitcom will be set on a college campus. Apatow says about the show, "This is about the freedom of college and what kids choose to do with it. This isn't about the underdogs."

7.20.00 - "Freaks and Geeks" has been nominated for two Emmy Awards for Outstanding Casting for a Comedy Series and Outstanding Writing for a Comedy Series (Pilot). The Emmy Awards will be presented on September 10th and broadcast live on ABC.

7.13.00 - The producers of F&G are in talks with a company called Rhino to release all the F&G episodes on DVD. Keep your fingers crossed!

7.12.00 - TV Guide Online: Freaks Star Bounces Back - a short bit on Linda Cardellini

7.11.00 - The Fox Family Channel has picked up the rerun rights to "Freaks and Geeks," including three previously unaired episodes. The network would also love to produce more original episodes, but acknowledges the difficulty due to the fact that many people involved in the show have already moved on to other projects. Fox Family Channell will show back-to-back episodes every Tuesday from 8-10pm starting August 29th.

7.10.00 - In a semi-annual poll, held by Electronic Media, of television critics from 57 daily U.S. newspapers, "Freaks and Geeks" was voted the fifth favorite show of TV critics across the country ("The Sopranos," "The West Wing," "Malcolm in the Middle," and "Buffy the Vampire Slayer" held the first four spots).

7.10.00 - On page 5 of the July 8th issue of TV Guide, Robert Abele writes about a "Freak-y Farewell," and how NBC is showing three unaired episodes, but it doesn't show renewed network interest in the show.

7.6.00 - The Chicago Tribune reports that Chicago's Museum of Broadcast Communications will show the remaining episodes of "Freaks and Geeks" (those still unaired even after NBC's July 8th mini-marathon) on July 14th. The blurb says "over six hours," so it probably mean eight episodes. Admission is free but reservations are required by phone at (312) 629-6023.

7.5.00 - Matt Roush of TV Guide writes in the July 8th issue about how wonderful "Freaks and Geeks" is and how awful Fox's "Opposite Sex" and the WB's "Young Americans" are, particularly in comparison.

6.29.00 - Sarah Hagan (Millie) was cast in the new David Allen Grier show on NBC, but she was recently axed.

6.29.00 - James Franco has been named the "It 'Freak'" by the June 30th issue of Entertainment Weekly.

6.29.00 - Michael White, supervising producer and onetime writer for "Dawson's Creek, has been named the "It Geek" by the June 30th issue of Entertainment Weekly.

6.7.00 - Michael White (supervising producer) has written and stars in a movie caled "Chuck and Buck," an independent feature which screened at this year's Sundance Film Festival. The movie also stars Chris and Paul Weitz (the director and producer of "American Pie").

6.6.00 - "Freaks and Geeks" has received two nominations for Television Critics Association Awards. The winners will be announced Saturday, July 15th during a ceremony hosted by Ben Stein.

6.5.00 - NBC has announced that on July 8th, three never before aired "Freaks and Geeks" episodes will be shown. In addition, Judd Apatow reports that MTV has show a tremendous amount of interest in airing repeats of the show. (An MTV spokeswoman says that no official decision has been made.)

5.24.00 - "Freaks and Geeks" may be back on NBC, but only for one night. NBC Entertainment president Garth Ancier said he's like to see a three-episode mini-marathon take place one night this summer with three of the five still-unaired episodes.

5.15.00 - Ultimate TV: Museum Marathon is High School Reunion for "Freaks and Geeks"

5.13.00 - Entertainment Weekly Online: EW Online picks five quality shows that deserve a time slot. Bruce Fretts names the series that's as good as "The Sopranos."

5.10.00 - James Franco has been cast in the title role of the TNT original flick "James Dean: An Invented Life," according to Variety. Soap veteran Mark Rydell, director and producer of the project, will play Jack Warner.

4.24.00 - John Daley has been cast in the as-yet-untitled ABC sitcom starring Geena Davis. The Hollywood Reporter says that Daley will play the unpredictable 16-year-old stepson to the successful single New York woman played by Davis, and brother to an emotional six-year-old girl.

4.24.00 - Fans attmepting to bring back the show plan to place a full-page ad in Variety tomorrow urging another network to carry the show. Salon magazine reports that "Operation Haverchuck" is also aiming to send 5,000 letters to network executives.

4.20.00 - Natasha Melnick (Cindy) will be starring in the made-for-TV movie, "Miracle on the Mountain: The Kincaid Family Story," on CBS Wednesday, April 26th.

4.12.00 - Six un-aired episodes of "Freaks and Geeks" will be showing at both the New York and Los Angeles locations of the Museum of Television and Radio. Executive producers Judd Apatow and Paul Feig, along with cast members, will be on-hand at the Los Angeles museum May 13th to host the six-in-a-row screening marathon. Talent from the show will also be at the New York museum on April 30th when the museum there screens the unseen episodes. Producers for the show are still searching for a new home since being dumped by NBC. Feig told UltimateTV that DreamWorks has approached Fox and MTV about picking up the series.

4.2.00 - "Freaks and Geeks" writer Gabe Sachs recently bought actor Brian Benben's Los Angeles home.

3.22.00 - TV Guide Online: James Franco: Ain't Nothin' but a G-String

3.22.00 - Ultimate TV reports on the online effort to save "Freaks and Geeks."

3.22.00 - TV Guide Online confirms that James Franco is dating Marla Sokoloff ("The Practice") after meeting her while filming the feature film, "Whatever It Takes."

3.22.00 - The latest word on NBC's position on "Freaks and Geeks" is that Variety reports that NBC has given DreamWorks, which produces the series, permission to shop the remaining six episodes among other outlets, such as MTV or Fox. "We're hopeful that we will find the appropriate home for the show in the very near future," a DreamWorks honcho says.

3.22.00 - NBC has pulled "Freaks and Geeks" from the air again and will not show any more episodes this season. There is talk of bringing the show back for the summer. No official decision has been reached about whether "Freaks" will be back in the fall. "We got killed," creator Paul Feig writes on freaksandgeeks.com. "And we weren't even up against anything." The producers have faulted NBC for not promoting the show and for consistently shifting its slot.

3.20.00 - "Freaks and Geeks" won the award for Best Family TV Comedy Series at the Twentyfirst Annual Young Artist Awards of 1998-1999.

3.16.00 - Don't miss James Franco in the new movie, "Whatever It Takes," opening everywhere March 24th.

3.13.00 - Ultimate TV: Freaks Thanks Fans, Rallies for More

3.5.00 - The cast of "Popular" beat the cast of "Freaks and Geeks" by at least 200 points.

2.10.00 - "Freaks and Geeks" has been pulled from NBC's Monday night line-up for the rest of February sweeps. It is expected to return in March when sweeps is over.

1.13.00 - "Freaks and Geeks" did well enough in its new Monday timeslot to get another four episode order from NBC, giving it a grand total of 18 episodes in its first season. "The series had a very respectable debut in its new time period, particularly given the strong competition on the other networks," NBC Entertainment President Garth Ancier. "We've always known we had something special with 'Freaks and Geeks' and we look forward to it being a strong contender in its time period going forward." "We all appreciate the network giving us a second shot to prove ourselves," said "Freaks and Geeks" executive producer Judd Apatow. "I'm also thrilled that the American taxpayers won't be burdened with having to pay our unemployment checks."

12.20.99 - "Freaks and Geeks" has been named the third best television show of 1999 by Entertainment Weekly.

12.20.99 - "Freaks and Geeks" has been named part of the best of TV by < A HREF="http://www.tvguide.com/tv/magazine/991220/ftr9.asp" TARGET=new>TV Guide.

12.20.99 - Linda Cardellini has been named one of the top performers of 1999 by Entertainment Weekly.

11.20.99 - "Freaks and Geeks" gets jeers in the November 20th issue of TV Guide because it portrayed Sam, Bill and Neal at school talking about the previous night's episode of "Dukes of Hazzard." "As any authentic geek from the period could attest, 'Dukes' was a Friday-night-with-nowhere-to-go staple. Unless Sam and his lunch pals went to school on Saturdays, they couldn't have watched Bo and Luke the night before. Consider this blunder a freak accident though: 'Geeks' otherwise gets straight A's when it comes to re-creating high school's not-so-wonder years."

11.20.99 - "Freaks and Geeks" gets a great review from Matt Roush on page 16 of the November 20th issue of TV Guide.

11.15.99 - "Freaks and Geeks" is featured on page 117 of the November 19th issue of Entertainment Weekly.

11.1.99 - NBC's Saturday night lineup of "Freaks and Geeks" and "Cold Feet" bombed in the Nielsens, the second time in three days that NBC's schedule fell short of expectations. Variety reports that "Freaks and Geeks" finished fourth in its timeslot Saturday, matching the horrible numbers that "Wind on Water" did a year ago.